An Introduction to Pakistan's Demographics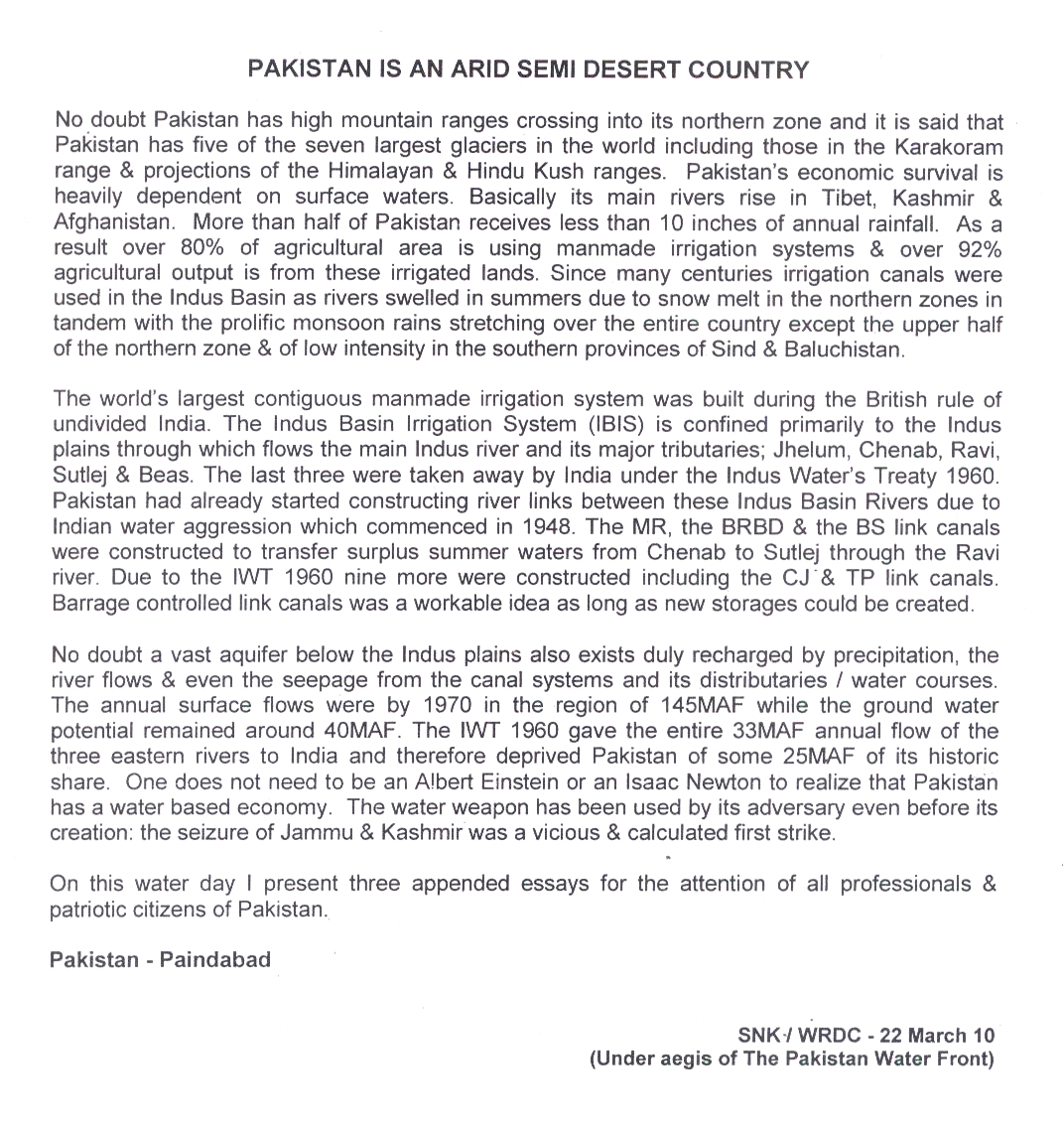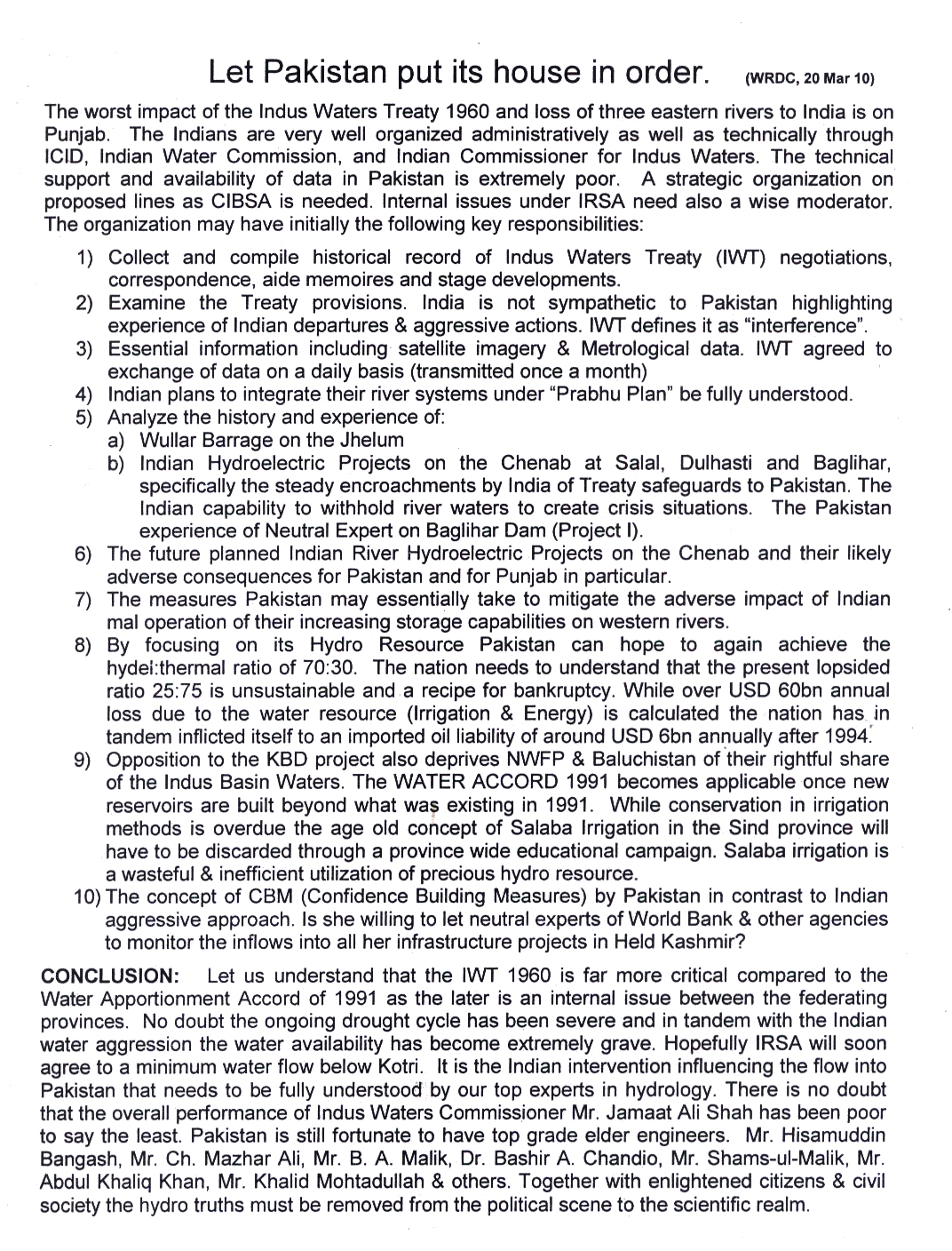 Indus Basin Irrigation System - IBIS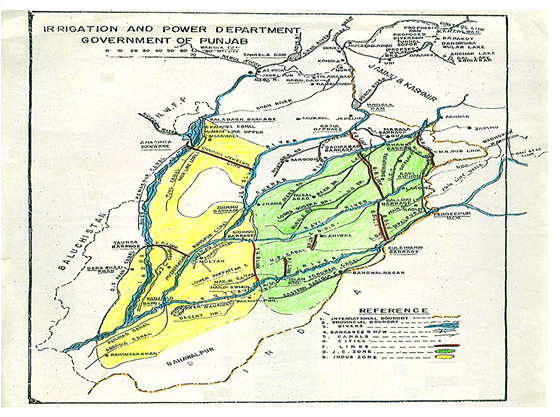 India's Surreptitious Water War leads to history's greatest Genocide
Engr. Suleman N. Khan/WRDC
India annexed Kashmir after the Sikh ruler opted for the Indian Union. The myth of "Democratic India" can be annihilated on this one terrible development alone. Therefore, in one annexation, India took control of Pakistan's "lifeblood," its water- heads. In essence, its prosperity, its economy, its very existence lay firmly in the hands of its rival state. The Indians knew that Pakistan's major asset is the Indus Basin Irrigation System (IBIS) and its citizens have a tradition of agriculture. Water was the weapon by which Mother India would take its revenge from those who "violated her" in 1947. The Indus Waters Treaty (IWT) of 19 Sep 1960 was forced upon Pakistan. The nation was compelled to give away till eternity about 15% of her surface flows (27 MAF). The chapter # 8 of Mr. B. A. Malik's book "Indus Waters Treaty in Retrospect" describes it clearly. The IWT Annexure D defines the permissible design of New Run-of-River Plants in Occupied Kashmir so that diversion of these waters is inhibited. The IWT Annexure E limits the storage capacity, Indians can create. Also Annexure C clarifies that the Indians were permitted water from Pakistan's Western Rivers for about 0.7MA additional acreage in Held Kashmir. It identified a gross area for irrigation of about 1.3MA with 0.6MA being irrigated on 19 Sep 1960. This concession is now misused as water was not quantified.
Democratic India had used the "water weapon" (being upper riparian) in 1948 against all norms of civilized behavior and international laws governing sharing of waters by neighboring states. The first nation that sensed the gravity of the situation was the USA and they had acted quickly. Several initiatives were also taken directly by PAK officials to convince the Indians not to put into practice their threat "to starve Sindh & Punjab….. (and)….. would have to beg for every drop of water". As Mr. Bashir A. Malik writes in his book (Indus Waters Treaty in Retrospect) the East Punjab government had made it clear that: "(It) would not restore the flow of water to the canals unless West Punjab acknowledged that it had no right to the water". President Truman dispatched to the sub-continent Mr. David Lilienthal America's greatest Irrigation Specialist & the founding father of TVA. He spent six months in India & Pakistan. The two passages of David Lilienthal's article of August 1951 as delivered by President World Bank (IBRD) with his letter of 06 Sep 1951 to P. M. Mr. Liaqat Ali Khan duly reproduced:
Quote:
"Why the flow of the Punjab's lifeblood was so carelessly handled in the partition no one seems to know. Pakistan includes some of the most productive food-growing lands in the world in western Punjab (the Kipling country) and the Sind. But without water for irrigation this would be desert. 20,000,000 acres would dry up in a week, tens of millions would starve. No army, with bombs and shellfire, could devastate a land as thoroughly as Pakistan could be devastated by the simple expedient of India's permanently shutting off the sources of water that keep the fields and the people of Pakistan alive"………..
The report also stated,
"The partition gave the major part of the irrigated lands of the Punjab and Sind to Pakistan; but the headwaters of some of the largest irrigation canals that feed Pakistan were left with India or Kashmir. All the rivers upon which Pakistan depends for life originate in India or Kashmir. Two thirds of the entire water supply originates in Kashmir where the snow-fed Indus rises". Unquote
On 19 Sep 1960 India manoeuvered to take forever waters of the three Eastern rivers (Ravi, Sutlej & Beas). From their flow she had around 6MAF historical share under British rule but now she secured to take the full flow averaging 33MAF. Pakistan was under the false hope that having sacrificed three rivers the other three were now exclusively for her use. The flows of all three western rivers have reduced but Chenab's flow has fallen sharply in the last 20 years. The Indian commitment to ensure an average +55,000 cusecs Chenab flow between 21 June to 31 August at Marala (its entry into Pakistan territory) is merely a bluff & camouflage. The IWT Annexure E has taken great pains to limit the storage capacity & the power storage capacity of the three Western Rivers flowing through occupied Kashmir but the ongoing infrastructure projects by India on Jhelum Main & Chenab Main violate the letter & spirit of the IWT 1960. It may be appreciated that 1 MAF is quantity of water if a 1381 cusecs flow takes place for a whole year. The irrigation year is from 01 April to 31 March. The Kharif Season is from 01 April to 30 September & the remaining six months are the Rabi Season. The true figures of three western rivers average annual inflows in MAF are:
1998 – 2008 2008 – 09 2009 – 10 (upto 10 Dec)
Chenab at Marala 23.26 19.82 15.82
Jhelum at Mangla 18.34 19.25 17.
Indus at Tarbela 58.98 55.98 51.46
Kabul at Nowshera 18.60 17.91 19.69
Indian commitment of +55,000 cusecs (c/s) average flow in Chenab from 21 June to 31 August merely a cover. Monsoons permit this generosity. The Chenab flows were:
Pre-Treaty (1947-1960) were 29MAF annually. Post-Treaty/Tarbela 26MAF annually.
If +55,000 c/s was the average from 21 June to 31 August then in this period alone a minimum of 7.64MAF Chenab flow is guaranteed. Therefore in the post Treaty scenario the flow for the remaining part of the year should be about 18.4MAF. The above facts prove that based on the thirty years flow data of Chenab between 1974 to 2007 over 6MAF is now missing annually. If global warming additional flows as estimated are factored then Pakistan is being denied another 5.2MAF annually (conservative) since the last ten years. A one day average flow on 21 Jan 10 was 6,200 c/s. Last year on 21 Jan 09 it was 19,100 c/s. The average daily flow of last ten years on 21 Jan (2000 – 2009) has been 10,200 c/s.
The flow of Jhelum Main & its tributaries has been also denuded by about 4.8MAF annually on a conservative assessment. Annual Jhelum inflows at Mangla between 1998-99 to 2007-08 averaged 18.34MAF. In financial year 2008-09 it was 19.25MAF, against the Post Treaty average of 24MAF.
Annual Indus inflows at Tarbela between 1998-99 to 2007-08 averaged 58.98MAF. In financial year 2008-09 it was 55.98MAF, against the Post Treaty/Tarbela of 89MAF.
Fortunately the Kabul River inflows at Nowshera show an increase as expected due to global warming/glacier retreat. The average is now 18.60MAF inspite of diversions.
¡Let us understand that global warming & subsequent glacier retreat is an undeniable reality. Based on historic and current data, I estimate that the inflow of Indus, Jhelum & Chenab should further increase by about 30 MAF annually within the next 20 to 40 years. India we estimate continues to apply a steady squeeze of over three additional MAF every year since 2000. In 2006, India launched the World's largest single irrigation project estimated to cost over USD 212bn. This River Linking project is clearly predicating the theft of Pakistan's waters flowing through Jammu & Kashmir. India's water war is surreptitious. Indian statements that she only uses occupied Kashmir waters for "run of the river" power generation is false. Is she willing to let neutral experts of World Bank & other agencies to monitor the inflows into all her infrastructure projects in Held Kashmir? Why is it that she needs storages for these "run of the river" projects? Even one day's storage for power is enough. We only know what comes downstream (outflows). The withdrawals are her state secret.
She has by 2008 built or was building 61 Infrastructure projects in Occupied Kashmir. There are strong reports of tunneling as well. India admits that Kashmir projects will generate 28,000MW. CIBSA the proposed answer to India's ICID must help us fully understand and then educate the world about this menacing & dangerous enterprise. India had by 2003 already achieved more than 250MAF storage representing more than 30% of its surface flows and with this so-called River Linking project she will cross 40% capacity ofcourse using substantial Kashmir diverted waters. Through ICID the Indians now oppose every effort to secure multi-lateral financing for large dams. She has the audacity to declare the northern areas of Pakistan as part of Greater Kashmir to ensure that IBRD/WB may not fund infrastructure projects under its Kashmir policy. I estimate that the Indian factor; its interference in the Indus Basin flows (directly & indirectly) has already inflicted a loss of over USD one trillion on Pakistan's nascent economy. This loss will now grow exponentially because the loss has snowballed into an energy crisis resulting in a catastrophe for the industrial & agricultural sectors. Each MAF not utilized is over USD 2bn loss to the economy directly related to Irrigation & Energy. An annual loss of USD 60bn since 2002 & growing as India encourages Kashmir farmers to pump as much water as they wish with free electricity provided. She helps Afghanistan to dam the Kabul river, a tributary of the Indus.
Pakistan now has less than 8% storage capability of its 145MAF annual surface flows. The role of sweet water is an existential issue in Pakistan's financial sustainability and survival. Maximum water availability fell below 1AF per person in the last decade and of this only 8% can be now stored & utilized. Even 1AF per year (little over 1,000 m3) is the bench mark of a "water stressed" nation. Potentially the richest nation of South Asia has become a basket case. Economic & financial depression has resulted in cataclysmic tendencies within the Federation. It is estimated that the political anti-dam lobbies encouraged by India have ensured that Pakistan wastes around USD 60bn worth of water every year. The nation has been blessed with five of the seven largest glaciers on the planet. The Pakistani government must wake up to this reality and its blatant disregard and abuse of both the Indus Basin surface flows & the IBIS. India must stop its inhuman & illegal activities within Pakistan by encouraging the anti-dam lobbyists & ofcourse its surreptitious policy of surface flow attrition. Having achieved a greater part of her objective she now declares at every fora that the IWT 1960 needs to be amended under International Law of Riparian rights. She alleges that Pakistan has wasted sweet water and this gives India the eternal rights to use what Pakistan has wasted. She however does not wait for an amendment (which would be against the spirit of the IWT) but has already diverted this life giving resource through military occupation of Jammu & Kashmir. Where will she stop?
CONCLUSION: The Federation of Indian Commerce & Industry (FICCI) in its mission statement of 2009 declares amongst other provocations that "Leveraging Water Issue: Indus Valley Treaty is highly tilted in favor of Pakistan. India is sparing water even beyond its treaty obligations. Water is a very serious issue for Pakistan and India channelizing water for irrigation and power can seriously pressurize Pakistan". This is a recipe for the genocide of the Pakistani people and possibly lead to the disintegration of the Federation through serious provincial conflict, de-industrialization, famine and poverty. The region could become a nuclear flashpoint due to this Indian policy. International players must become aware of this crucial reality as well. Territory of Jammu & Kashmir is being used in a deadly game against Pakistan's existence. Adolf Hitler borrowed the symbol of the Hindu war-god "the Swastika". Let India not borrow Hitler's mindset. Certainly we were born from the same womb, and as such owe great ties to one another. Based on this Pakistan can offer India vast partnerships in economy and culture. This surreptitious undeclared war by India is leading to history's greatest genocide. How many millions have already perished due to famine & disease can only be imagined. Let men & women of goodwill all over the world including India rise and be heard.
Pakistan Paindabad
Engr. Suleman N. Khan/WRDC
18 March 10
(under aegis of The Pakistan
Water Front)
Lt. Gen (R) G. S. Butt Letter – 02 June 2004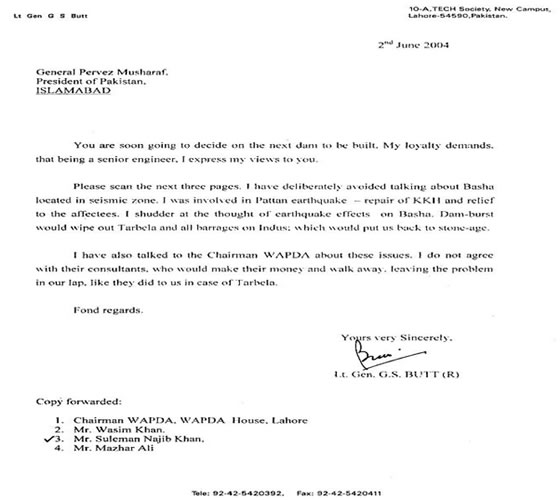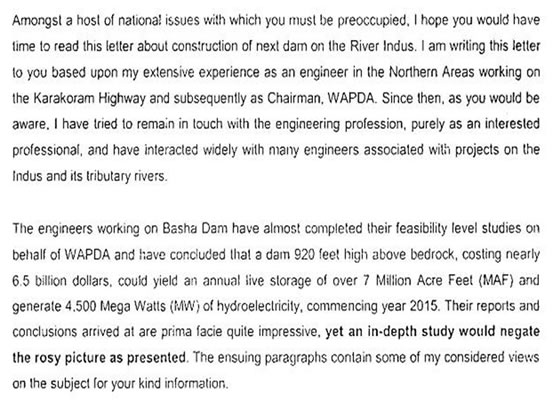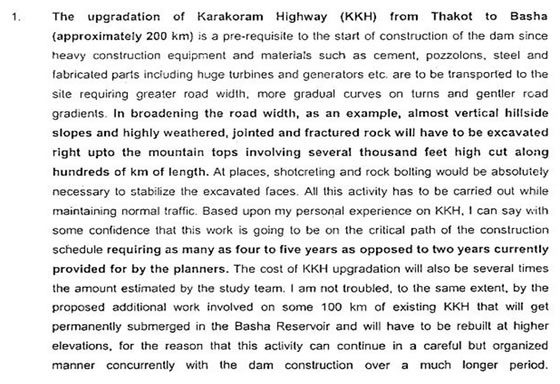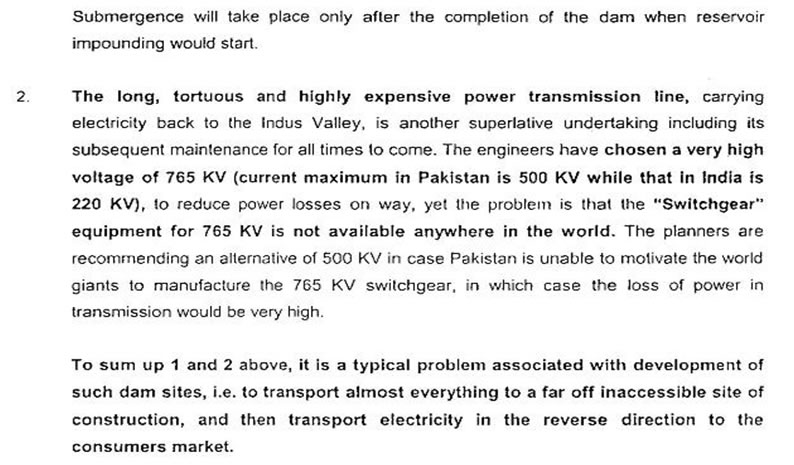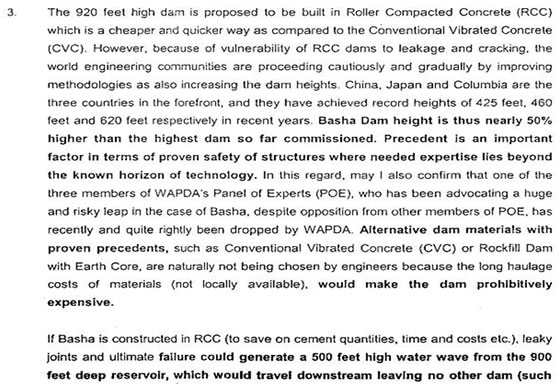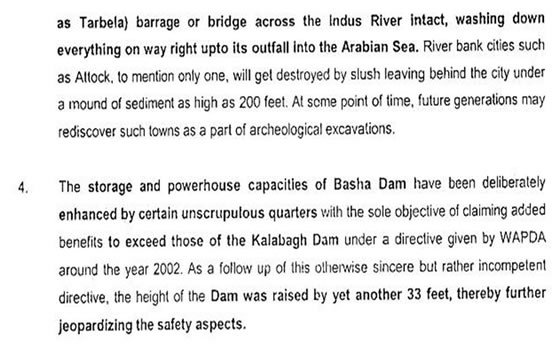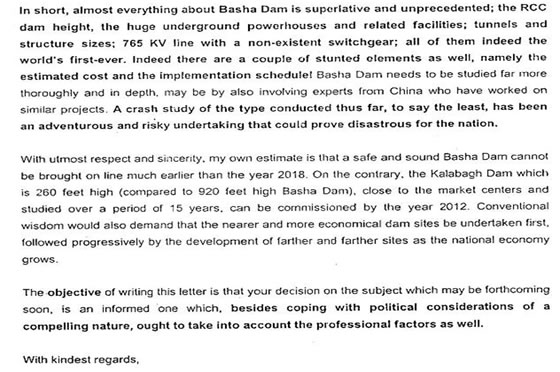 Lt. Gen (R) G. S. Butt Letter – 09 July 2004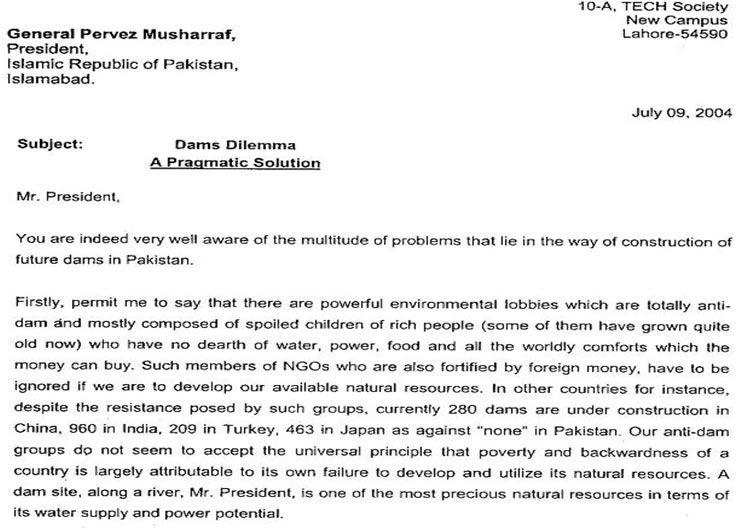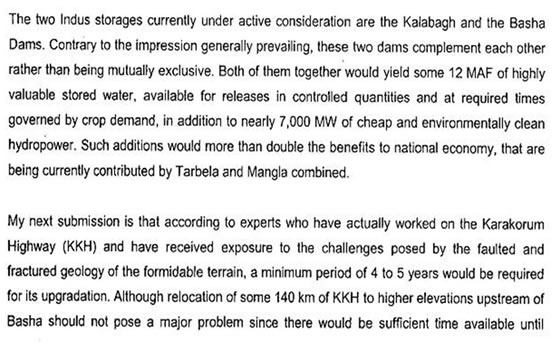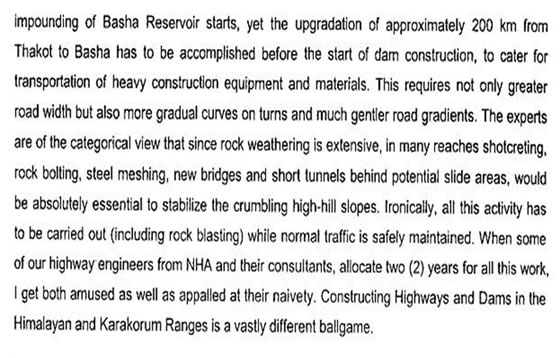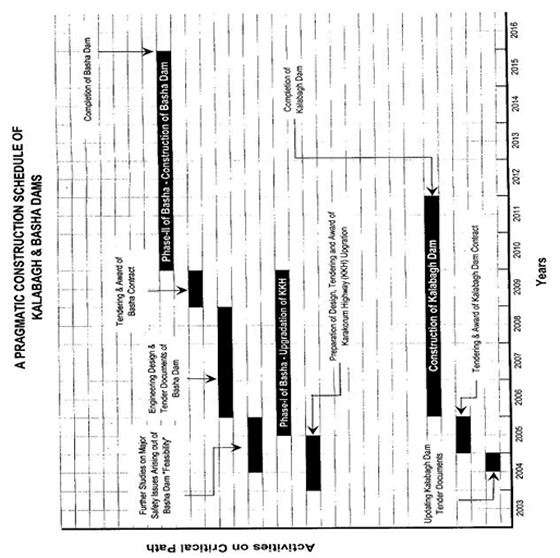 Syed S. Kirmani Letter – 04 Feb 1998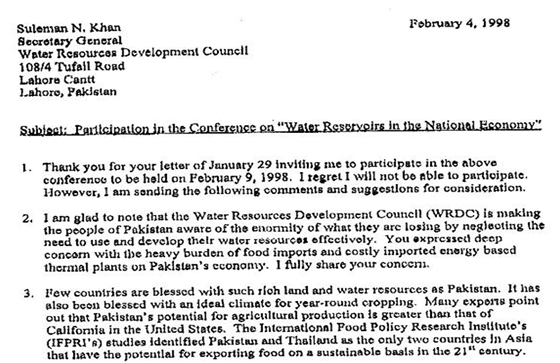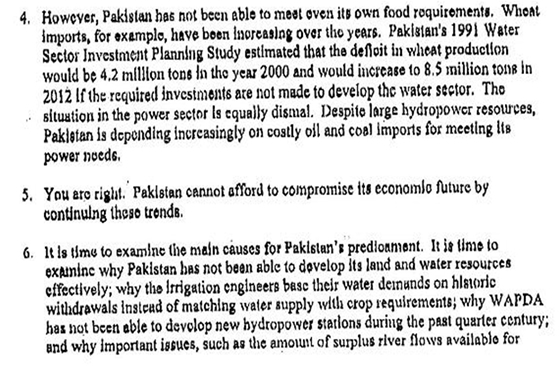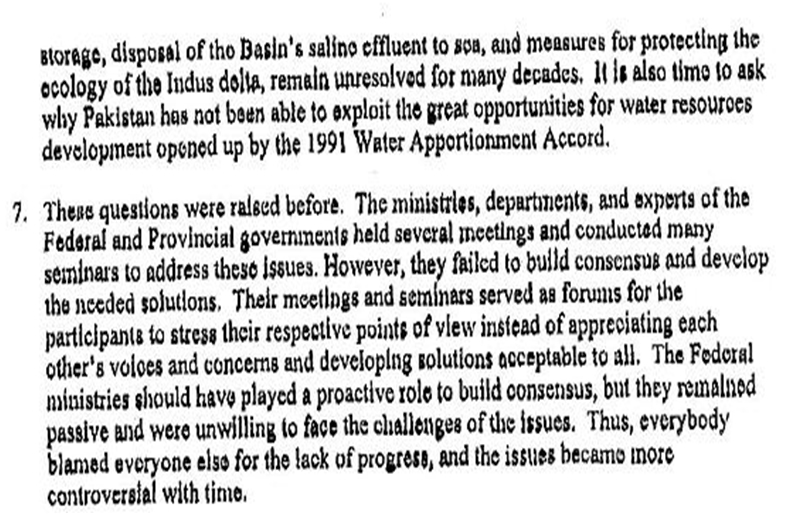 Hisamuddin Bangash
(09 Feb. 1998 - National Water Conference)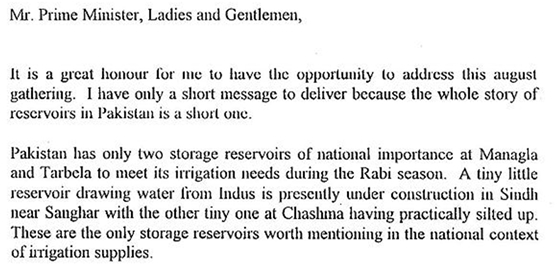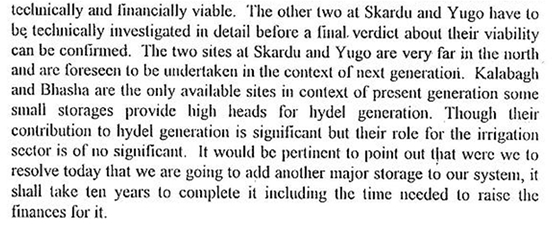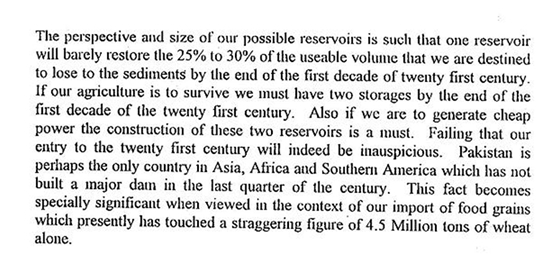 Indian ICID, Weapon Established in 1950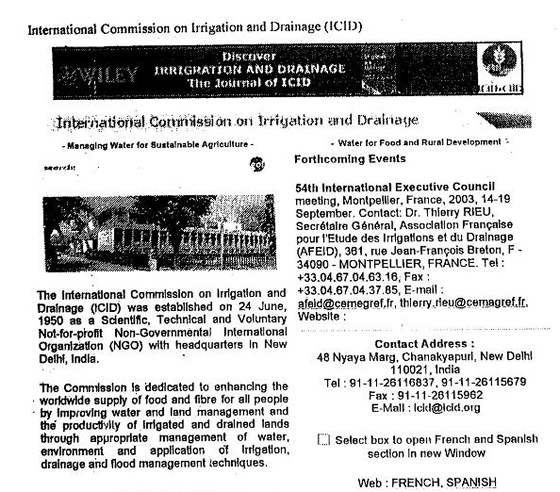 Indian ICID, Weapon Established in 1950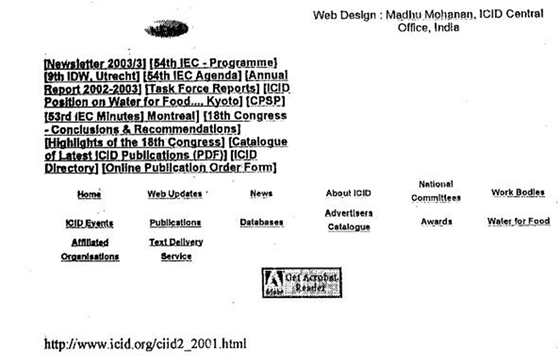 A Proposal: CIBSA Our Response to the ICID Challenge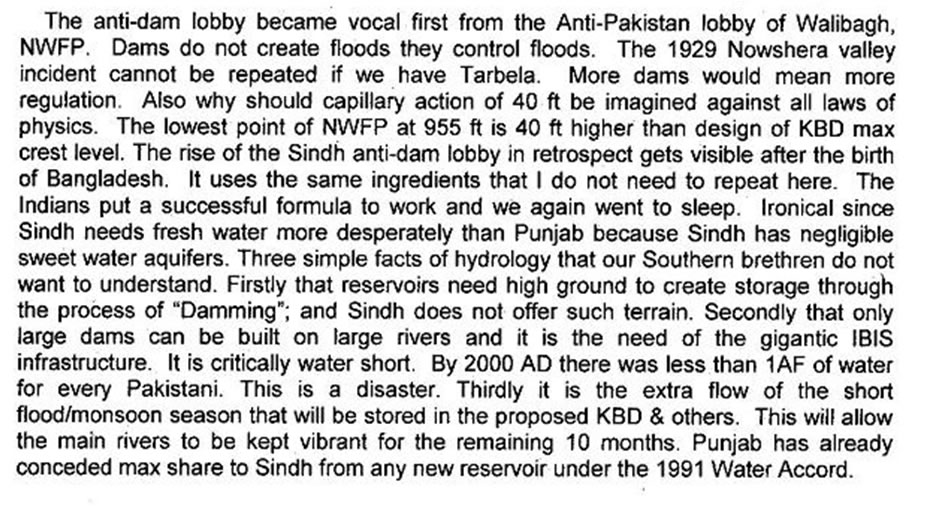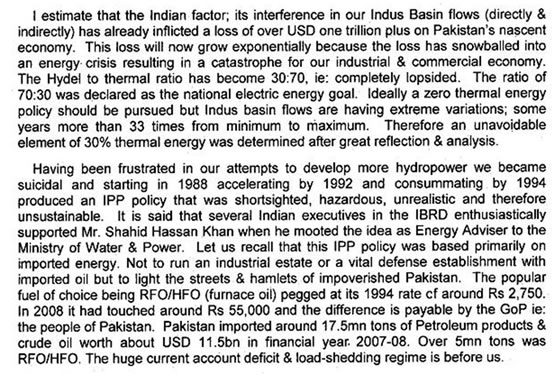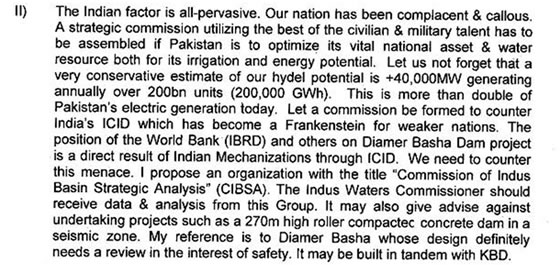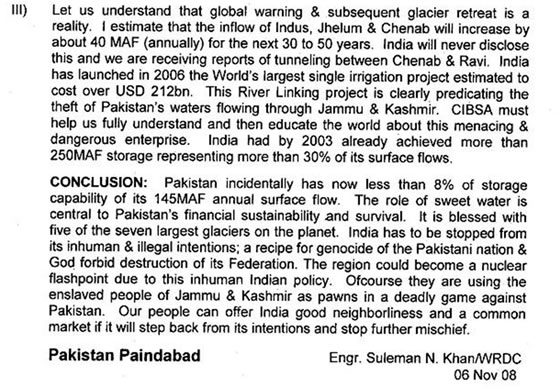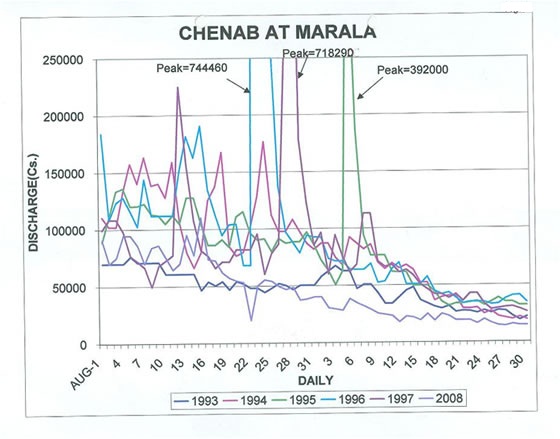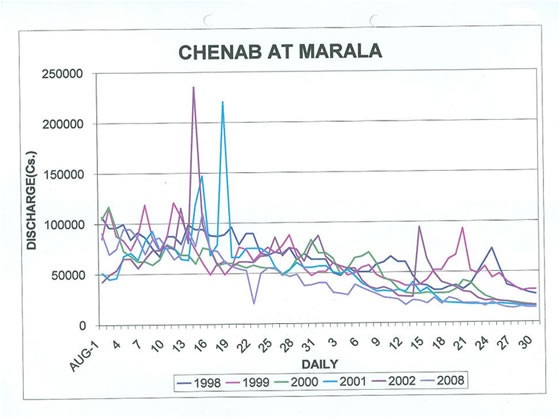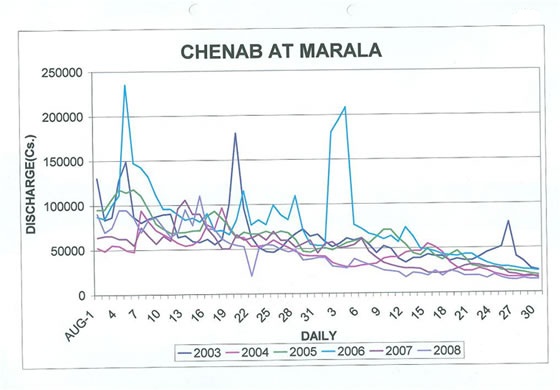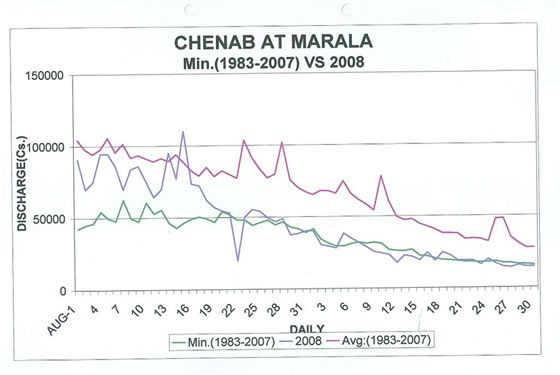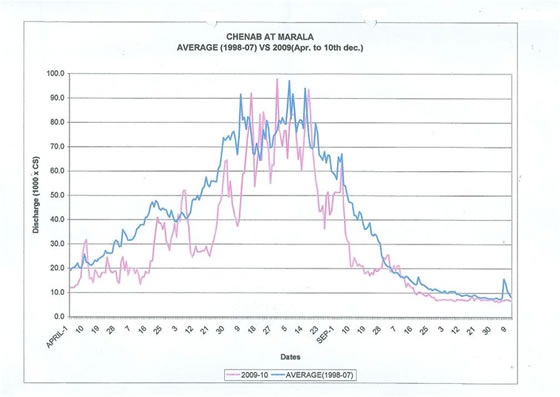 Indian Power Projects on River Chenab (Part-I)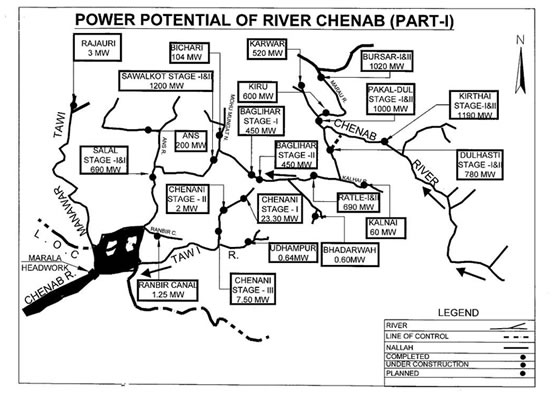 Indian Power Projects on River Chenab (Part-II)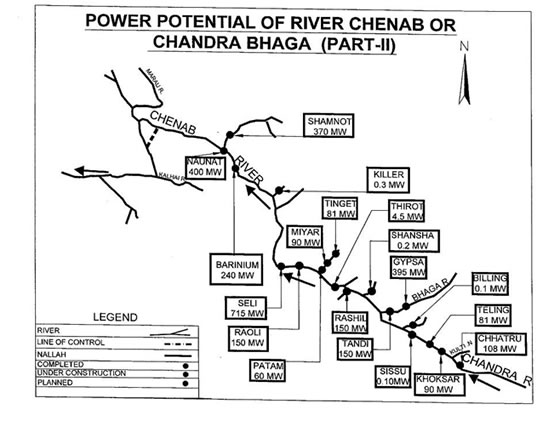 Power Projects of River Indus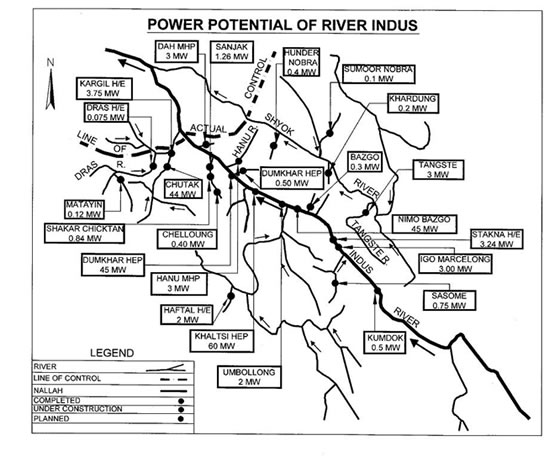 Escapages Below Kotri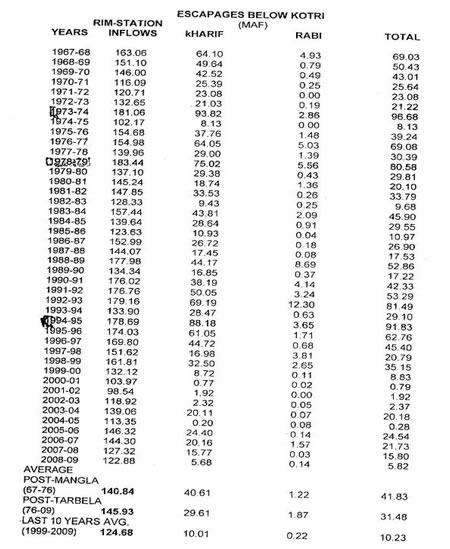 Pakistan will Cry for Water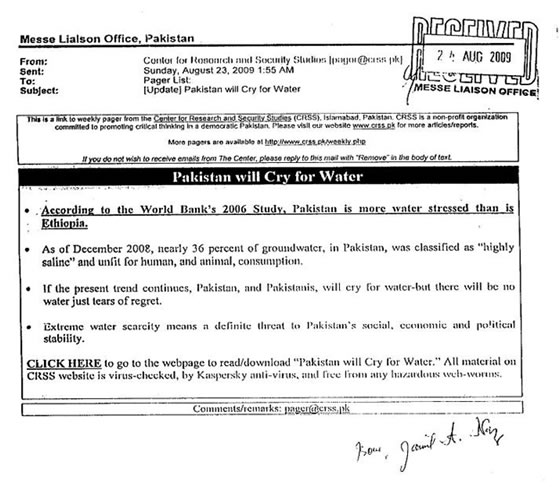 Kalabagh Dam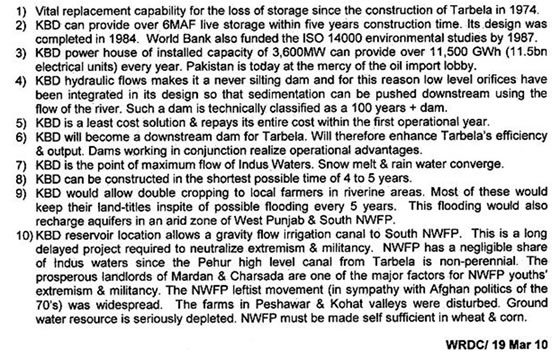 A Proposal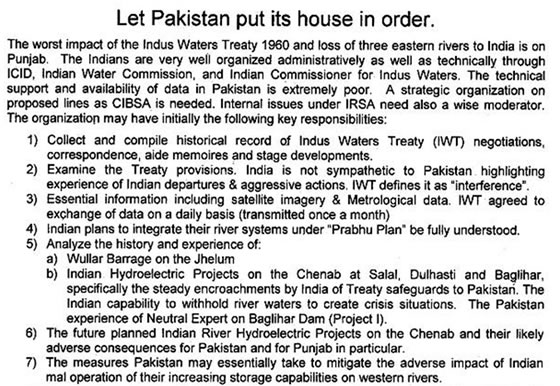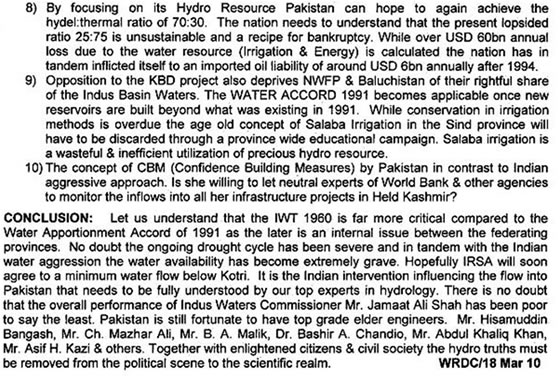 Pakistan Paindabad
Convener WRDC / Engr. Suleman N. Khan
e-mail: info@wrdc.com.pk